Complete Story

09/23/2020
Today's COVID-19 Report: Wednesday, September 23, 2020
Wednesday, September 23, 2020
Here are the latest need-to-know updates for Wednesday, September 23 regarding the COVID-19 pandemic.
You asked... We answered
You Asked: If we receive a positive result using our point-of-care testing device, but then receive a negative result on the follow-up PCR test, do we have to do another PCR test to confirm the negative? Or is one sufficient?
We Answered: This week, staff from the Ohio Department of Health communicated guidance they'd received from the Bureau of Infectious Disease on this question. They note that if the test is done on an asymptomatic individual, for example, as a part of routine prevalence testing, and that there are no other clinical symptoms of COVID-19 nor confirmed exposure to an individual with COVID-19, one negative PCR test is sufficient. However, if the test is administered on a person who has symptoms or other reason to suspect they may have COVID-19, then the facility should follow guidance as if the person is being released from transmission-based precautions: namely, the individual requires a second test.
Ohio's New Nursing Home Testing Cadence
The Ohio Department of Medicaid (ODM) and Ohio Department of Health (ODH) announced today that effective October 5 they are eliminating the current every two-week testing requirement and will change to a strategy that aligns with CMS. Ohio's new testing requirement will combine the CMS county positivity report as outlined in QSO-20-38-NH with Ohio's Public Health Advisory System (PHAS). Facilities that have low positivity rates and are green will no longer receive testing support from Ohio. If a county has a low positivity rate and is green but is at a level 3 or higher in the PHAS then the facility is to test once a week. Facilities are to review the PHAS on the first and third Monday of each month. ODH will provide biweekly testing support for yellow counties and outbreaks in the green counties. Weekly testing support will be provided for counties in the red. State supported testing of residents will only occur in an outbreak.
ODH will send out an EIDC alert on the first and third Mondays of each month to list the counties that are PHAS 3 or higher but green/low on CMS' spreadsheet. Below is the table outlining how the CMS positivity report, the state support, and remaining facility requirement will add up to meet the required cadence for testing AND how the state will provide its support. Note that resident testing support occurs with an outbreak.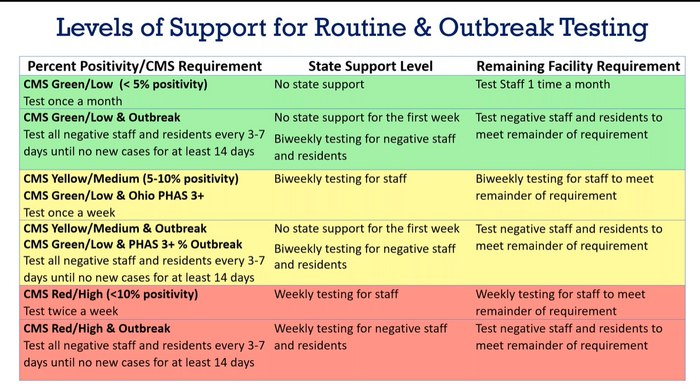 The state will create a testing schedule and assign a lab for facilities opting in to the state supported plan. Facilities must either contract with a lab separately to conduct the testing that's needed outside of the state supported testing or use the POC devices. ODH stated that all facilities with a CLIA waiver should have received their POC devices and these devices should be used to meet testing requirements including outbreak testing. Again, a facility may choose to use an outside lab to meet all testing requirements.
The new testing strategy for Ohio begins October 5. All facilities that are currently opted-in to the state supported testing plan will be assumed to be opted-in for the new testing strategy.
To change opt-in/opt-out status. ODH will release a survey that must be completed by 9am on September 28 to change opt-in/opt-out status. If a facility has an "outbreak", a new survey must be completed in order to receive the state supported testing in a new cadence. Facilities will automatically receive testing supplies and must comply with the testing schedule for the state to process the tests.
Testing results. All nursing homes in Ohio will be required to complete a survey monkey that will include data entry of aggregate counts of testing conducted. This new reporting survey will be released by October 5.
The email address for testing questions is CCURT@odh.ohio.gov. Any questions related to ODH testing may be directed to Stephanie DeWees, Quality and Regulatory Specialist, at sdewees@leadingageohio.org.
State requests additional information from RCFs, Adult Day Providers, and Senior Centers opting-in for testing: Deadline for opt-in/opt-out extended
The Ohio Department of Aging (ODA) held webinars last Friday, September 18, to explain the testing requirements for reopening of Adult Day Services and Senior Centers. During the webinar, the state's partnership with MAKO Medical was announced. MAKO will provide COVID-19 testing to Residential Care Facilities, Adult Day providers and Senior Centers in accordance with each respective Director's Order.
From ODA:
Every facility is asked to complete a quick survey to register (opt-in) for state-supported testing or to decline (opt-out of) state-supported testing if the facility is utilizing another testing option. If you have not already taken the opt in/opt out survey, please take it now. The survey will remain open through 11:59 PM on Friday, September 25th. Please designate one point of contact from your facility/center to complete the opt-in/opt-out survey by the deadline. Please fully complete the survey and click "DONE" to record your selection. Completion of this survey is needed to create the testing schedule and to ensure the bi-weekly delivery of testing supplies to facilities that opt-in for state-supported testing.
By opting in, MAKO will provide necessary testing supplies, paid Fed Ex shipping, and lab processing. There is no expectation for a facility to utilize the state-supported program to meet the requirements of the Order. Facilities are permitted to continue using testing programs/processes that are currently in place or are being independently secured. Regardless of the testing choice, every facility is required to report its test results every two weeks to ODA.
Note for Adult Day Service Providers and Senior Centers: If you plan to reopen in the next two weeks, please use the survey to register if you wish to use state-supported testing. If you plan to open at a later time, please reach out directly via email to MAKO at RNibert@makomedical.com or JTucker@makomedical.com to opt into the testing program.
Providers are asked to visit the residential care facility or adult day services/senior center pages of ODA's website for further program guidance and information. Additional questions that these resources do not answer should be sent to the testing team directly at COVIDTesting@age.ohio.gov.
ODH shares recording of CLIA reporting webinar
On Monday, September 21, the Ohio Department of Health (ODH) hosted a webinar focused on the reporting requirements for any provider relying on point-of-care testing devices for testing needs. The reporting requirements also apply to the Abbott BinaxNOW cards which were sent last week directly to providers with CLIA waivers. LeadingAge Ohio strongly encourages members to make time to view the webinar recording and review the shared materials, which include:
LeadingAge Ohio strongly encourages all providers who are either planning or considering use of the point-of-care testing devices or Abbott cards to ensure they fully understand the reporting requirements inherent in using the devices. Any questions related to ODH reporting may be directed to Stephanie DeWees, Quality and Regulatory Specialist, at sdewees@leadingageohio.org.
LeadingAge Ohio urges assisted living providers to have CLIA waivers
Last week, assisted living providers across the state began to receive Abbott BinaxNOW test cards shipped directly to their sites. The cards were sent only to assisted living providers who had CLIA waiver certificates. The distribution represents the next step in the Trump Administration's efforts to support testing in congregate care settings. LeadingAge Ohio strongly encourages assisted living providers who do not currently have a CLIA waiver to begin the straightforward application process, as the cards will continue to be sent to providers through the remainder of the year, based on estimates of how many cards a provider would need to test their staff.
Symposium to focus on social isolation in the time of COVID
On October 9, the Ruth Frost Parker Center for Abundant Aging will host its fourth annual Symposium. This year's topic "Power in Community: Overcoming Loneliness and Isolation" is aptly chosen to focus on the challenges of social isolation among older adults, a problem that has been exponentially exacerbated by the global COVID-19 pandemic. It will feature excerpts from the soon-to-be-released film "All the Lonely People" followed by a reflective discussion with the film's creators and other experts.
Participants will:
Limited seating is available in-person at the Nationwide Conference Center in Lewis Center, Ohio. Participants can also register to attend online at no cost, or with a $25 fee for CEs. LeadingAge Ohio strongly encourages members to register to ensure they don't miss out on this once-a-year event.
HHS releases reporting requirements for provider relief funds
On September 19, the US Department of Health and Human Services released requirements for any health care providers that have received $10,000 in aggregate from provider relief funds through federal CARES Act dollars. Included in the reporting requirements is the allowance that funds not expended in 2020 may be held and applied to revenue losses during the first half of 2021. The publication states, "If recipients do not expend PRF funds in full by the end of calendar year 2020, they will have an additional six months in which to use remaining amounts toward expenses attributable to coronavirus but not reimbursed by other sources, or to apply toward lost revenues in an amount not to exceed the 2019 net gain. For example, the reporting period January – June 2021 will be compared to the same period in 2019." To read the full story click here.
Join LeadingAge's National Day of Action Today
Negotiations have stalled on the next Coronavirus relief package and LeadingAge needs Congress to act now for older adults before they leave Washington, DC, to campaign in their home districts. Join in LeadingAge's National Day of Action today to get the word out. Sample messages and graphics for sharing on social media platforms are available in the Action Center. This may be the last chance for a comprehensive relief package to provide support for needed PPE, testing supplies, and other essential services for all aging services providers. ACT NOW by contacting your members of Congress.
Housing Happenings Call: Acceptance of HUD funding requires rapid authorization; resident voting resource introduced
On this morning's Housing Happenings weekly provider call, Linda Couch, LeadingAge's Vice President of Housing Policy, reviewed the United States Department of Housing and Urban Development (HUD) updates regarding anticipated COVID-19 payments for providers. The COVID-19 Supplemental Payment (CSP) funds that had initial applications due by August 5 are now in process of being dispersed by HUD. Providers should expect to hear from HUD within the next week to have funds distributed by or on October 1. For 202/PRACs that applied for the CSP funds, there may be some additional delay after October 1; HUD reports it is working on getting these payments out ASAP.
LeadingAge continues discussion with HUD in anticipation of a second round of CSP funds with expanded use of dollars. In addition, Linda shared that notification of acceptance to those providers that applied for the grant based service coordinator funds from the CARES Act is underway and the provider's authorizing official must access GrantSolutions and accept the award no later than 5 business days after receipt of notification. Providers are encouraged to act fast once notified via email.
This week, REAC began sending 14-day inspection notifications to owners and while senior living is still excluded from the beginning of the inspection scheduling, applications for the NSPIRE Demonstration continue to be accepted. Linda encouraged providers to consider being part of the NSPIRE demonstration to gain insight into future inspection protocol from HUD. To find out more about the demo, please click here. Congress continues to grapple with how to handle the fact that none of its regular FY21 appropriations bills will be completed by October 1, the start of the next fiscal year. Senate, House, and White House negotiators are trying to come up with the details of a Continuing Resolution (CR), which would keep federal programs like HUD- and USDA-funded affordable housing running at FY20 appropriated levels through the duration of any CR. Any "plus-ups" to the FY20 levels, the duration of the CR, and any additional policy issues to be included, are all on the table as most House and Senate members hope to return home the end of the week of September 21 to campaign for fall elections. For HUD, the "plus-ups" will hopefully include language to allow HUD's 40-site Integrated Wellness in Supportive Housing (IWISH) demonstration to continue past its scheduled September 30 sunset, as well as language to keep Section 202 PRAC renewals funded during the CR.
Joe Franco, LeadingAge's Vice President of Grassroots Advocacy, introduced an online tool to allow residents to look up their registration status, register to vote, find their local polling place or request a mail-in ballot.
Housing Happenings is a free member benefit co-hosted by LeadingAge Maryland and LeadingAge Ohio each Wednesday morning from 9-9:30am. To join next week's call, register on the LeadingAge Ohio website.
LeadingAge Need to Know: COVID-19 – September 23, 2020
LeadingAge shares the latest coronavirus news and resources with members twice each weekday. This morning's update featured a recap of the "Making Care Work Pay" webinar and information on the upcoming Littlefield Leadership Lecture.
Check out the full report here.
---
Questions
Please send all questions to COVID19@leadingageohio.org. Additionally, members are encouraged to visit the LeadingAge Ohio COVID-19 Working Group facebook group to pose questions to peers and share best practices. LeadingAge is continuing its daily calls for all members. To participate in these daily online updates, members should register here.
LeadingAge Ohio is working to ensure that the information in our daily alerts, on our website, and all coronavirus-related communications is as accurate as possible. However, LeadingAge Ohio makes no guarantees about the accuracy of the information.
---