Details

June 23, 2021
2:00-3:30PM
Take the Mayhem Out of Marketing: Bringing Recovery and Success to Occupancy
Redefine, Reboot and Refuel Your SNF Census
WEBINAR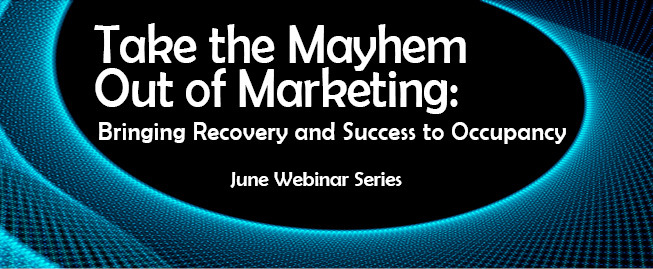 Mayhem is on the scene! Whether independent living, nursing home or assisted living, COVID-19 has had a
profound impact on occupancy rates in each level of care. Featured experts from across the country will speak
to occupancy challenges and opportunities for LeadingAge Ohio members. Research results will be presented
demonstrating COVID-19's impact on occupancy. Case studies and experts will illustrate innovative solutions and opportunities for occupancy success within the continuum of care. Say goodbye to mayhem and put your
marketing endeavors on the road to recovery and success!
Session 3:
Redefine, Reboot and Refuel Your SNF Census
This presentation is geared for leaders who are serious about revitalizing their SNF occupancy post-pandemic. Join Linda as she addresses the factors which led up to the current SNF landscape and vital strategies necessary to effectively navigate the ever-dynamic, post-acute landscape. Linda invites you to take a front row seat in owning your occupancy and learning more about the latest innovations and opportunities to immediately uptick and sustain your SNF census.
Who will benefit from this webinar:
Executive Directors
Administrators
Business Development Leaders
Marketing Directors
Clinical Liaisons
Case Managers
Admissions Coordinators
Date:
June 23, 2021
Time:
1:00 p.m. - 2:30 p.m. EST
Cost:
LeadingAge Ohio Member: $75 per site, per session
Non-Member: $150 per site, per session
*Fee includes all webinar materials and continuing education hours.
Presented by:
Linda Saunders, LNHA, Founder & President, Censusolutions
Two Options to Register
NOTE: All participants must first register and pay for the event on the LeadingAge Ohio website (link below). Once registered, you will receive a confirmation email containing a URL link and register In ADVANCE on the Zoom Webinar platform to receive your UNIQUE event access URL Link and Meeting Access Codes.
Each webinar is a separate virtual event. Registration is required for each.
Register by Mail:
Print the registration form and mail with registration fee to:
LeadingAge Ohio
2233 North Bank Drive
Columbus, OH 43220
Your registration will be complete upon receipt of this form and payment. All registrants will receive an email confirmation. If you do not receive a confirmation, please contact Corey Markham at (614) 545-9015 or cmarkham@leadingageohio.org.

Substitution and Cancellation Policy: Substitutions, in writing, are welcome at no additional cost. Cancellations received by two calendar weeks prior to event date will be fully refunded. Cancellations received between 7 and 13 days prior to the event date will be refunded minus a $40 processing fee. No refunds will be issued 6 or fewer days prior to the event date.
Continuing Education Information
1.5 clock hours will be awarded upon successful completion. Pending BELTSS approval.

Criteria for successful completion: Attendance at entire event and submission of completed evaluation form.

LeadingAge Ohio is an approved provider by the Board of Executives of Long Term Services and Supports. Core of knowledge subject area: Leadership and Management.

As stated in the Ohio Administrative Code 4723-9-05, education that has been approved by a board or an agency that regulates a health care profession in Ohio or another jurisdiction is an acceptable option to meet nursing continuing education requirements.
Additional Information on Session 4
Click the link below for additional information on the remaining session in the series. You must register separately for each session.
June 30: Session 4: The Changing Landscape for Assisted Living in a Post- Pandemic World
2021-06-23 14:00:00
2021-06-23 15:30:00
America/Detroit
Take the Mayhem Out of Marketing: Bringing Recovery and Success to Occupancy
Mayhem is on the scene! Whether independent living, nursing home or assisted living, COVID-19 has had aprofound impact on occupancy rates in each level of care. Featured experts from across the country will speakto occupancy challenges and opportunities for LeadingAge Ohio members. Research results will be presenteddemonstrating COVID-19's impact on occupancy. Case studies and experts will illustrate innovative solutions and opportunities for occupancy success within the continuum of care. Say goodbye to mayhem and put yourmarketing endeavors on the road to recovery and success! Session 3: Redefine, Reboot and Refuel Your SNF Census This presentation is geared for leaders who are serious about revitalizing their SNF occupancy post-pandemic. Join Linda as she addresses the factors which led up to the current SNF landscape and vital strategies necessary to effectively navigate the ever-dynamic, post-acute landscape. Linda invites you to take a front row seat in owning your occupancy and learning more about the latest innovations and opportunities to immediately uptick and sustain your SNF census. Who will benefit from this webinar: Executive Directors Administrators Business Development Leaders Marketing Directors Clinical Liaisons Case Managers Admissions Coordinators Date:  June 23, 2021 Time: 1:00 p.m. - 2:30 p.m. EST  Cost:  LeadingAge Ohio Member: $75 per site, per sessionNon-Member: $150 per site, per session *Fee includes all webinar materials and continuing education hours. Presented by: Linda Saunders, LNHA, Founder & President, Censusolutions Two Options to Register NOTE: All participants must first register and pay for the event on the LeadingAge Ohio website (link below).  Once registered, you will receive a confirmation email containing a URL link and register In ADVANCE on the Zoom Webinar platform to receive your UNIQUE event access URL Link and Meeting Access Codes. Each webinar is a separate virtual event. Registration is required for each. Online Registration: CLICK HERE to register online. Register by Mail: Print the registration form and mail with registration fee to:LeadingAge Ohio2233 North Bank DriveColumbus, OH  43220 Your registration will be complete upon receipt of this form and payment. All registrants will receive an email confirmation. If you do not receive a confirmation, please contact Corey Markham at (614) 545-9015 or cmarkham@leadingageohio.org.Substitution and Cancellation Policy: Substitutions, in writing, are welcome at no additional cost. Cancellations received by two calendar weeks prior to event date will be fully refunded. Cancellations received between 7 and 13 days prior to the event date will be refunded minus a $40 processing fee. No refunds will be issued 6 or fewer days prior to the event date. Continuing Education Information 1.5 clock hours will be awarded upon successful completion. Pending BELTSS approval.Criteria for successful completion: Attendance at entire event and submission of completed evaluation form.LeadingAge Ohio is an approved provider by the Board of Executives of Long Term Services and Supports. Core of knowledge subject area: Leadership and Management.As stated in the Ohio Administrative Code 4723-9-05, education that has been approved by a board or an agency that regulates a health care profession in Ohio or another jurisdiction is an acceptable option to meet nursing continuing education requirements. Additional Information on Session 4 Click the link below for additional information on the remaining session in the series.  You must register separately for each session. June 30: Session 4: The Changing Landscape for Assisted Living in a Post- Pandemic World
WEBINAR
---