Complete Story

03/27/2019
Good Shepherd Home Spearheading New Elder Certification Program
Good Shepherd Home Spearheading New Dementia Certification Program
March 27, 2019
FOSTORIA - LeadingAge Ohio today visited Good Shepherd Home in Fostoria to observe their Elder Certification Program, which is offered in conjunction with Vanguard-Sentinel Career and Technology Center. This program is offered to all students at Vanguard-Sentinel.
Good Shepherd Home is currently hosting seven students from various Northwest Ohio high schools who spend part of each school day at Vanguard-Sentinel in their Health Career Academy. While at Good Shepherd Home, the students receive instruction from Registered Nurses and other staff with hands-on exercises, classroom work and by spending time with the residents. All of the current students in the program are State-Tested Nurse's Aides.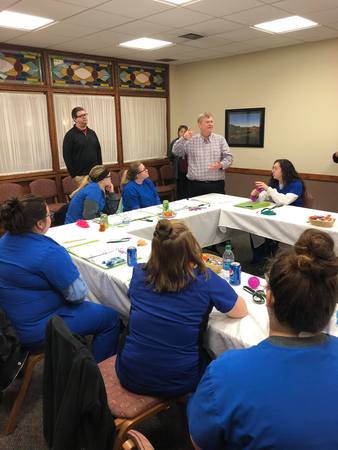 Good Shepherd Home's Chris Widman speaking to students in the program
The program consists of two weeks of sessions at Good Shepherd Home, after which they leave with a certificate that can help them when they go seeking employment or further education after graduation. The program is mutually beneficial, giving the students' resumes a boost when pursuing careers in healthcare and helping to train the next generation of long-term care staff for nursing facilities.
LeadingAge Ohio is planning to publicize this program and others to representatives from the state legislature, schools in Northwest Ohio and the media at our May 7th panel in Fostoria at Good Shepherd Home titled "The Power of Partnerships: Mobilizing the Next Generation for a Strong Workforce". To RSVP, please contact Patrick Schwartz at PSchwartz@leadingageohio.org.
---