Details

September 28, 2021
8:30AM-4:00PM
2021 Virtual Leadership Summit
Blueprints for the Future
Virtual Event
2021 Virtual Leadership Summit
Blueprints for the Future
The 2021 LeadingAge Ohio Leadership Summit will create a forum for forward-thinking dialogue on successfully delivering aging services today and in the post-pandemic years ahead. Nearly every area of the aging services continuum will be touched in the day's discussion, from services into the community (meals on wheels, adult day, home health) and long-term care settings, to hospice and affordable housing. Every one of these services and settings has margins pinched by an ongoing constriction of payment sources and reimbursement challenges. The day's agenda will bring research results, case studies and a time of 'radical introspection' leading to a blueprint for vision casting for how mission-driven organizations can prepare for the future's knowns and unknowns.
September 28 Agenda
9:00 a.m.

Welcome/Setting the Stage
Kathryn Brod, President/CEO LeadingAge Ohio
Scott Townsley, Trilogy Consulting


"It is often difficult for leaders to imagine a different world. It is this failure of imagination that so often leads to strategic surprise."


~from Seeing Around Corners, Rita McGrath
(Houghton Mifflin Harcourt 2019)

9:15 a.m.

What Happens When a Changing Industry Meets a Once-in-a-
Lifetime Pandemic? And What's Next?
Robert Applebaum, Ph.D., Scripps Gerontology Center

Diving deep into demographics and implications of the pandemic.

10:00 a.m.

Future of Nursing Homes
Jill Wilson, Otterbein SeniorLife
Carol Silver Elliott, Jewish Home Family/LeadingAge Board Chair

Considering implications of the future of nursing homes for the rest of the continuum and the greater community.

10:45 a.m.
Break
11:00 a.m.

Margin Mandates for Mission-Driven Organizations
David Baiada, BAYADA

Challenging the traditional operating paradigm of mission at the expense of margin to a model of rigorous attention to margin in order to bring greater mission/service to the community.

About BAYADA. Founded in 1975, BAYADA Home Health Care is a Moorsetown, NJ-based international nonprofit home health care provider. BAYADA has more than 347 service offices in 22 states, with locations in Germany, India, Ireland, New Zealand, and South Korea.

11:45 a.m.

Take-aways from the Morning
Scott Townsley


12:00 p.m.
Lunch
12:30 p.m.

Lunch Presentation: Preparing for the Aging of Ohio
John Corlett, The Center for Community Solutions

1:00 p.m.

Building Partnerships Across the Continuum
Kent Anderson, Ohio's Hospice
Rev. Kenneth Daniel, United Church Homes
Charles Gehring, LifeCare Alliance

Exploring how mission is deepened through a breadth of partnerships.

2:00 p.m.

Building Partnerships Beyond the Continuum
Donnald Heckelmoser, LSC Service Corp
Chris Widman,Good Shepherd Home
Gregory Edinger, Vanguard-Sentinel Career
& Technology Centers

Exploring how mission is deepened through workforce and healthcare partnerships.

3:00 p.m.

Small Group Work
All Attendees

3:30 p.m.

Small Group Report Out with Take-aways from the Day
All Attendees/Scott Townsley

4:00 p.m.

Wrap Up & Adjourn
Kathryn Brod
Program Information
Intended Audience:
CEOs, CFOs, CIOs, COOs, Executive Directors
Location:
The Leadership Summit is now a virtual Zoom event.
Continuing Education:
6.25 clock hours will be awarded upon successful completion.
7.5 CPE hours will be awarded upon successful completion.
Criteria for successful completion: Attendance at entire event and submission of completed evaluation form.
LeadingAge Ohio is an approved provider by the Board of Executives of Long Term Services and Supports. Core of knowledge subject areas: Leadership and Management.
As stated in the Ohio Administrative Code 4723-14-05, education that has been approved by a board or an agency that regulates a health care profession in Ohio or another jurisdiction is an acceptable option to meet nursing continuing education requirements.
LeadingAge Ohio is an approved CPE Sponsor from the Accountancy Board of Ohio, CPE.379, expiration date: 5.31.2022.
LeadingAge Ohio PAC "Classic" Golf Outing:
Click here to register yourself, your team, or a sponsorship in the LeadingAge Ohio PAC "Classic" Golf Outing on Monday, September 27 at the Golf Club of Dublin.
Two Easy Ways to Register
By Mail: DOWNLOAD THE FLYER and mail form with payment to:
LeadingAge Ohio
2233 North Bank Drive
Columbus, OH 43220
Substitution and Cancellation Policy: Substitutions, in writing, are welcome at no additional cost. Cancellations received by two calendar weeks prior to event date will be fully refunded. Cancellations received between 7 and 13 days prior to the event date will be refunded minus a $40 processing fee. No refunds will be issued 6 or fewer days prior to the event date.
All registrants will receive an email confirmation which will include Zoom login instructions. If you do not receive a confirmation, please contact Corey Markham at (614) 545-9015 or cmarkham@leadingageohio.org.
Thank You to Our Sponsors: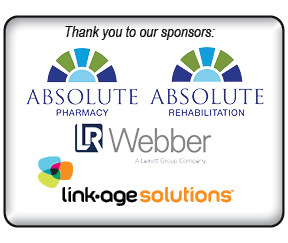 2021-09-28 08:30:00
2021-09-28 16:00:00
America/Detroit
2021 Virtual Leadership Summit
2021 Virtual Leadership SummitBlueprints for the Future   The 2021 LeadingAge Ohio Leadership Summit will create a forum for forward-thinking dialogue on successfully delivering aging services today and in the post-pandemic years ahead. Nearly every area of the aging services continuum will be touched in the day's discussion, from services into the community (meals on wheels, adult day, home health) and long-term care settings, to hospice and affordable housing. Every one of these services and settings has margins pinched by an ongoing constriction of payment sources and reimbursement challenges. The day's agenda will bring research results, case studies and a time of 'radical introspection' leading to a blueprint for vision casting for how mission-driven organizations can prepare for the future's knowns and unknowns. September 28 Agenda 9:00 a.m.  Welcome/Setting the StageKathryn Brod, President/CEO LeadingAge OhioScott Townsley, Trilogy Consulting "It is often difficult for leaders to imagine a different world. It is this failure of imagination that so often leads to strategic surprise." ~from Seeing Around Corners, Rita McGrath(Houghton Mifflin Harcourt 2019)     9:15 a.m.  What Happens When a Changing Industry Meets a Once-in-a-Lifetime Pandemic? And What's Next?Robert Applebaum, Ph.D., Scripps Gerontology Center Diving deep into demographics and implications of the pandemic.     10:00 a.m. Future of Nursing HomesJill Wilson, Otterbein SeniorLifeCarol Silver Elliott, Jewish Home Family/LeadingAge Board Chair Considering implications of the future of nursing homes for the rest of the continuum and the greater community. 10:45 a.m. Break     11:00 a.m. Margin Mandates for Mission-Driven OrganizationsDavid Baiada, BAYADA Challenging the traditional operating paradigm of mission at the expense of margin to a model of rigorous attention to margin in order to bring greater mission/service to the community. About BAYADA. Founded in 1975, BAYADA Home Health Care is a Moorsetown, NJ-based international nonprofit home health care provider. BAYADA has more than 347 service offices in 22 states, with locations in Germany, India, Ireland, New Zealand, and South Korea.     11:45 a.m.  Take-aways from the MorningScott Townsley     12:00 p.m. Lunch     12:30 p.m. Lunch Presentation:  Preparing for the Aging of OhioJohn Corlett, The Center for Community Solutions 1:00 p.m. Building Partnerships Across the ContinuumKent Anderson, Ohio's HospiceRev. Kenneth Daniel, United Church HomesCharles Gehring, LifeCare Alliance Exploring how mission is deepened through a breadth of partnerships.     2:00 p.m. Building Partnerships Beyond the ContinuumDonnald Heckelmoser, LSC Service CorpChris Widman,Good Shepherd HomeGregory Edinger, Vanguard-Sentinel Career& Technology Centers Exploring how mission is deepened through workforce and healthcare partnerships.     3:00 p.m. Small Group WorkAll Attendees     3:30 p.m. Small Group Report Out with Take-aways from the DayAll Attendees/Scott Townsley     4:00 p.m. Wrap Up & AdjournKathryn Brod   Program Information Intended Audience:CEOs, CFOs, CIOs, COOs, Executive Directors Location:The Leadership Summit is now a virtual Zoom event. Continuing Education:6.25 clock hours will be awarded upon successful completion. 7.5 CPE hours will be awarded upon successful completion. Criteria for successful completion: Attendance at entire event and submission of completed evaluation form. LeadingAge Ohio is an approved provider by the Board of Executives of Long Term Services and Supports. Core of knowledge subject areas: Leadership and Management. As stated in the Ohio Administrative Code 4723-14-05, education that has been approved by a board or an agency that regulates a health care profession in Ohio or another jurisdiction is an acceptable option to meet nursing continuing education requirements. LeadingAge Ohio is an approved CPE Sponsor from the Accountancy Board of Ohio, CPE.379, expiration date: 5.31.2022.   LeadingAge Ohio PAC "Classic" Golf Outing:Click here to register yourself, your team, or a sponsorship in the LeadingAge Ohio PAC "Classic" Golf Outing on Monday, September 27 at the Golf Club of Dublin.   Two Easy Ways to Register By Mail: DOWNLOAD THE FLYER and mail form with payment to: LeadingAge Ohio2233 North Bank DriveColumbus, OH  43220 Online Registration is available here! Substitution and Cancellation Policy: Substitutions, in writing, are welcome at no additional cost. Cancellations received by two calendar weeks prior to event date will be fully refunded. Cancellations received between 7 and 13 days prior to the event date will be refunded minus a $40 processing fee. No refunds will be issued 6 or fewer days prior to the event date. All registrants will receive an email confirmation which will include Zoom login instructions. If you do not receive a confirmation, please contact Corey Markham at (614) 545-9015 or cmarkham@leadingageohio.org. Thank You to Our Sponsors:            
Virtual Event
---